Welcome to the Jasper County Assessors Office Web Site!
Jasper County Tax Assessors Office

PO Box 837
Ridgeland, SC 29936

Phone: (843)717-3620
Fax: (843)726-7765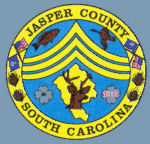 Our office is open to the public from 9:00 AM until 5:00 PM, Monday through Friday.
The information contained herein reflects the values established in the "most current published" tax digest. *Please note that the Assessors Office establishes values only. The Jasper County Tax Commissioner should be contacted with tax bill related questions.



Did you know?

Jasper County was named for Revolutionary War hero Sergeant William Jasper (ca.1750-1779). The county was formed in 1912 from parts of Beaufort and Hampton counties, and the county seat is Ridgeland. This area of the state was the home of the Yemassee and Coosaw Indians until colonial times. In 1732 Swiss-German immigrants led by Jean Pierre Purry established a settlement called Purrysburgh on the Savannah River, but the town did not survive. Other settlers built extensive rice plantations, some of which now form the Savannah National Wildlife Refuge. Two other towns in the county, Coosawhatchie and Pocotaligo, served at different times as the seat of government for Beaufort District. During the Civil War the Confederate army defeated federal troops at the battle of Honey Hill in November 1864. Jasper County was home to Thomas Heyward, Jr. (1746-1809), a signer of the Declaration of Independence, and Henry Martyn Robert (1837-1923), author of Robert's Rules of Order.

Source: South Carolina State Library