CHRISTIAN COUNTY HISTORY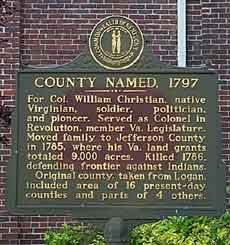 The first pioneers arrived in the area we now know as Christian County around 1784, lured by the fertile land, wild game and abundant timber. Hopkinsville, the county seat, was named for General Samuel Hopkins, a Revolutionary War Veteran. Christian County itself was named in honor of another Revolutionary War Veteran, Colonel William Christian.

In the early 1800.s, thousands of Cherokee Indians en route to Oklahoma stopped to rest in Hopkinsville. Two of their chiefs, White Path and Fly Smith are buried at the trail of Tears Commemorative Park.

Hopkinsville and Christian County.s rich heritage are reflected architecturally in the many historic homes and buildings in the downtown area. The Pennyroyal Area Museum highlights the community.s history and the achievements of its citizens.

Prominent Christian County residents have included:

Edgar Cayce (1877-1945) Internationally acclaimed clairvoyant

Adlai E. Stevenson (1835-1914) 22nd Vice President of the United States and great-grandfather of Adlai Ewing Stevenson III

Jefferson Davis (1808-1889) President of the Confederate States of America

Ted Poston (1906 . 1974) known as the .Dean of Black Journalists.
THE CITY OF HOPKINSVILLE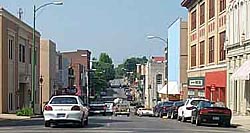 Located in the Pennyrile area of Southwest Kentucky near the Tennessee border, Hopkinsville is a growing city of nearly 35,000 residents and is the county seat of Christian County. Census figures show the city.s population grew 12% between 1990 and 1999, 22% since 1980 and an astounding 56% since 1970, allowing Hopkinsville to become the sixth largest city in Kentucky.

Reader.s Digest ranked Hopkinsville in its top 50 best places to raise a family.

ECONOMY
Christian County is farm country and farming is a major component of the area.s economy.

As one of Kentucky.s top 10 agricultural counties, Christian County farms are renowned for such crops as burley and dark-fired tobacco, corn, wheat and soybeans. Production also ranks high in hogs and cattle.

By far, the largest employer in the Hopkinsville area is Fort Campbell with over 23,000 US Army personnel and a civilian workplace of more than 40,000 who contribute over $1 billion per year to the local economy.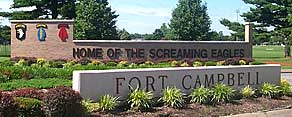 However, Hopkinsville is also home to three industrial parks hosting more than 50 industries, including Dana Corp., one of the .Industry Week. Magazine.s top 10 North American manufacturing plants.

Hopkinsville has received a number of industry-related recognitions and has been viewed as a .hot spot. for industrial manufacturers. The city recruited several new industries that helped boost manufacturing employment by 24% from 1991-1999.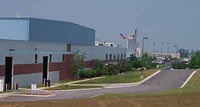 In one recent two-year period, seven new plants located here bringing more than 860 new jobs. The city.s industrial base is growing some thirty times faster than the US average with a new plant coming on line for six months.

Just as Hopkinsville.s industrial climate is at an all-time high its retail economy is enjoying renewed vigor as well. In fact, the area is such an entrepreneurial hotbed that it was recently rated as the second best place in America among small cities to own a business. Major renovations have allowed Bradford Square Mall to attract numerous locally owned and national chain stores to its list of tenants.



Growth also is taking hold along Fort Campbell Boulevard on the southern edge of the city with several new banks, retailers, restaurants and motels completed or under construction. The historic downtown district, home to professional offices, government agencies, restaurants and specialty retail shops, remains a vital link in the economy and creates an eclectic atmosphere for visitors.

EDUCATION
Hopkinsville owes much of its prosperity and quality of life to a sound educational system. There are 16 schools in the Christian County System: 11 elementary schools, three middle schools and two high schools serving approximately 9,000 students. Three private schools also are well established here.

Hopkinsville Community College offers freshman and sophomore . level courses and special technical training on its campus. With enrollment exceeding 2,500 students, it is also home to the $13 million Regional Technology Center created to offer industrial training and technical degrees. For junior and senior level courses, students may plan to attend Murray State University.s West Regional Post-Secondary Education Center. Graduate courses are also available.

COMMUNITY EVENTS
For residents as well as people looking to relocate, Hopkinsville.s energy and growth have made it an attractive city in which to live.

Every year, Hopkinsville hosts a number of special family-oriented events that include the Dogwood Festival, the Blues Festival, Little River Days, the Western Kentucky State Fair, the Trail of Tears Inter-Tribal Pow Wow, and Hopkinsville Salutes Fort Campbell Week, a week-long celebration dedicated to Fort Campbell soldiers and their families.

We welcome you to Christian County, one of the largest and fastest growing counties in the state.