Welcome to the Toombs County Tax Assessors Office Website
---
The Toombs County Board of Commissioners designates County Clerk, Helen Harris to serve as the county's open records officer
County Clerk, Helen Harris
Phone 912.526.3311
The Toombs County Sherriff's Office and Jail designates, Jenniffer Kell and Lauren Kight to serve as the Sherriff's Office and Jail's open records officers.
Jenniffer Kell
Phone 912.526.6778
Lauren Kight
Phone 912.526.6778
---
The Toombs County Board of Assessor's Office will be reviewing all properties in the unincorporated area of Toombs County to verify the accuracy of the Digest. If you live in the unincorporated area of Toombs County and would like to be present when the Assessor's Office visits your property, please call the Tax Assessors' Office and make an appointment at 912-526-6291. Our office hours are Monday thru Friday, 8:30 a.m. - 5:00 p.m.
Our office is open to the public from 8:30 AM until 5:00 PM, Monday through Friday.
The goal of the Toombs County Assessors Office is to provide the people of Toombs County with a web site that is easy to use. You can search our site for a wealth of information on any property in Toombs County.
The information contained herein reflects the values established in the "most current published" tax digest. *Please note that the Assessors Office establishes values only. The Toombs County Tax Commissioner should be contacted with tax bill related questions.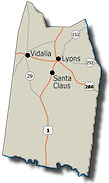 Did you know?
Toombs County , the 142nd county formed in Georgia, was created in 1905 from parts of Emanuel, Tattnall and Montgomery counties. The county was named for Robert Toombs, the Confederacy's Brigadier General and Secretary of State. Toombs had served in both houses of the U.S. Congress, but was a leading secession advocate at the Secession Convention at Milledgeville.

Toombs County is most famous for its sweet Vidalia onions, the state vegetable of Georgia. In fact, Vidalia is known as the "Sweet Onion Capital of the World." Plain onion seeds, when planted in the sandy loam soil of Toombs County, grow onions that are sweeter and juicier than the average onion.

The Ladson Genealogical Library, located in Toombs County, is one of the largest of such libraries in the Southeastern United States.

The Altamaha River forms the county's southern border.

Some of the special events in Toombs County are the Vidalia Onion Festival, held every spring, the Southeastern Georgia Soapbox Derby, and the Franklinia Playhouse.

City of Lyons
Lyons, the county seat of Toombs County, was incorporated December 9, 1897. The town, referred to as "The Tobacco Center", was named in honor of a promoter of the Seaboard Railroad that ran through the town's limits.

The town of Lyons, only five miles from Vidalia, is approximately 15 miles south of Interstate 16. In the U.S. Post Office on North State Street is a New Deal relief, "Wild Duck and Deer" (1942), by the Italian artist Albino Manca.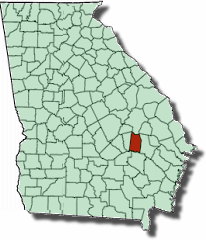 Lyons participates in the Better Hometown Program run by the Georgia Department of Community Affairs. This community development program is a public-private partnership intended to revitalize small communities with populations between 1,000 and 5,000. These cities have access to technical assistance and fiscal resources designed to stimulate downtown revitalization.

According to 2000 Census, the City of Lyons had a population of 4,169 persons. Between 1990 and 2000, the city experienced a population decrease of -6.9%, compared to the state growth during this period of 26.4%.

City of Vidalia
Vidalia's name is said to be a contraction of "via dalia," or "road of dahlias. Vidalia, Georgia has a mixed economy, but its largest industry is agriculture. Onions grown in and near Vidalia are licensed and sold internationally as Vidalia Onions and are valued for a sweet flavor derived from the soil of the area. A variety of sweet onions are grown under different names in other parts of the United States; however, only onions grown in a 20-county production defined in 1986 by the Georgia State Legislature can carry the name "Vidalia Onion." In 1989, the United States Department of Agriculture gave protected status to the Vidalia Onion name under the terms of the earlier Georgia law.
Source: georgia.gov