Welcome to the Talbot County Assessors Office Web Site!
In accordance with GA Law 48-5-264.1, the Board of Assessors must notify property owners prior to making an onsite visit. Notice is hereby given that a member of the appraisal staff will be reviewing and inspecting all properties which are subjects of the county wide revaluation, for data verification, changes, and improvements which have been made to the property. This onsite review will include measuring structures, listing construction information, and photographing the subject property.

For more information on this notification, please contact the Assessors office at (706) 665-3377 or office@talbotgaboa.org
The goal of the Talbot County Assessors Office is to provide the people of Talbot County with a web site that is easy to use. You can search our site for a wealth of information on any property in Talbot County.
The information contained herein reflects the values established in the "most current published" tax digest. *Please note that the Assessors Office establishes values only. The Talbot County Tax Commissioner should be contacted with tax bill related questions.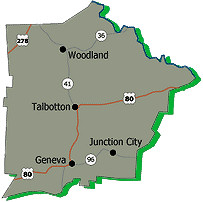 Did you know?
Talbot County, Georgia's 74th county, was created in 1827 from part of Muscogee County. The county and county seat, Talbotton, were named for Governor Matthew Talbot, who was serving as president of the Senate when Governor Rabun died. The first session of the Georgia Supreme Court was held on January 26, 1846 at the old Claiborne Hotel in Talbotton. Here, the state's first fifteen attorneys were sworn in and qualified to practice law.
Lying at the edge of the coastal plain, Talbot used to be at the ocean's edge. Now the county has large deposits of white sand which provides 90% of the United States' golf courses with their sand.
"Magic Hill," in Talbot County, is located at the foot of Pine Mountain. It is so named because of the illusion that a car with its brakes released appears to roll uphill on the road.
The county is also home to the Big Lazer Creek Wildlife Management Area.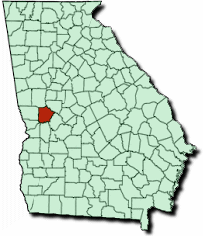 Lazarus Straus, an immigrant from Bavaria, settled in Talbot County with his family and established a business which was the forerunner of Macy's department stores. Straus' sons, Isadore, Oscar and Nathan, were known nationally for their leadership in business, diplomacy and health reform, respectively.
Talbotton, the county seat of Talbot County, was incorporated on December 20, 1828. Located on U.S. 80, Talbotton is seven miles from Big Lazer Creek Wildlife Management Area. There is a 196-acre public fishing lake, a picnic area, a boat ramp and primitive camping available on this facility operated by the Georgia Department of Natural Resources.
According to 2019 Census, the City of Talbotton had a population of 6,195 persons. Between 1990 and 2000, the city experienced a population decrease of -2.6%, compared to the state growth during this period of 26.4%.
Source: georgia.gov