Welcome to the Quitman County Assessors Office Web Site!
Quitman County Tax Assessors Office
P O Box 582
Georgetown, GA 39854
Phone: 229-334-2159
Fax: 229-334-2158
quitcotax@eufaula.rr.com

Our office is open to the public from 8:00 AM until 5:00 PM, Monday through Friday.
The goal of the Quitman County Assessors Office is to provide the people of Quitman County with a web site that is easy to use. You can search our site for a wealth of information on any property in Quitman County.
The information contained herein reflects the values established in the "most current published" tax digest. *Please note that the Assessors Office establishes values only. The Quitman County Tax Commissioner should be contacted with tax bill related questions.
NOTIFICATION

In accordance with Georgia Law, the Quitman County Board of Assessors must notify property owners prior to making a site visit. Notice is hereby given that a representative of the appraisal staff will review and inspect properties for current digest year. The appraisal reviews may include measuring structures, listing construction information, and photographing the subject property.

Reasonable notice is also given that an onsite inspection may be required for real or personal property being returned or appealed. Property visits will be for the purpose of determining the correctness of the information contained in the county's appraisal record for the property.

County appraisers will be in a marked "Appraiser" vehicle.

Please contact the Board of Assessors office @ 229-334-2159 for more information concerning this notice.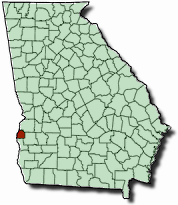 Did you know?
Quitman County was created from parts of Randolph and Stewart counties in 1858. The county was named for General John A. Quitman, a leader in the Mexican War, once Governor of Mississippi, and an avid spokesman for states rights.
An earlier fortified settlement, believed to have been built by prehistoric Indians, was located where Cool Branch flows into the Chattahoochee River. Much of that area--indeed all of Quitman's western border--is now beneath the waters of Lake Walter F. George, an impoundment on the Chattahoochee River.

Quitman County shares the Lake Walter F. George Wildlife Management Area with Clay County to the south.

The Harrison-Guerry-Brannon-Crawford Family Cemetery has many distinguished Georgians buried in it.

Georgetown, the county seat for Quitman County, was incorporated December 9, 1859. The city was named for the historic community in Washington, D.C. Georgetown was originally called "Tobanana" after a nearby creek.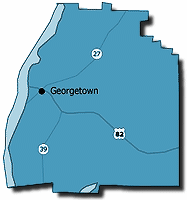 Georgetown is the county's only incorporated municipality. The Quitman County Jail, with 12" thick brick walls, is on the National Register of Historic Places. Another historical city landmark is the Harrison-Brannon-McKenzie antebellum cottage.

U.S. 82 is the major highway that runs through Georgetown. This southwest Georgia city is bordered on the west by Lake George, across the bridge from Eufaula, Alabama.

According to 2000 Census, the City of Georgetown had a population of 973 persons. Between 1990 and 2000, the city experienced a population increase of 6.5%, compared to the state growth during this period of 26.4%.
Source: georgia.gov