Welcome to the Murray County Assessors Office Web Site!
Our office is open to the public from 8:00 AM until 5:00 PM, Monday through Friday. Our phone number is 706-517-1400: press 2 for the Assessors Office. For a list of phone extensions click HERE.
The goal of the Murray County Assessors Office is to provide the people of Murray County with a web site that is easy to use. You can search our site for a wealth of information on any property in Murray County.
The information contained herein reflects the values established in the "most current published" tax digest. *Please note that the Assessors Office establishes values only. The Murray County Tax Commissioner should be contacted with tax bill related questions.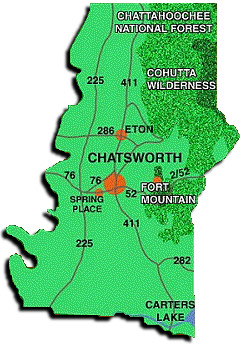 Did you know?
Murray County, created in 1832 from part of Cherokee County, was named for Thomas Walton Murray, a Speaker of the Georgia House of Representatives.

Among the county's attractions are the Vann House Historic Site at Spring Place. Constructed in 1805 for James Vann, a Cherokee chief, the two-story red brick home was built alongside the Federal Road, a major early path in northwest Georgia. The househ is decorated with Cherokee hand carvings and features a cantilevered stairway and many antiques. This Federal-style brick mansion is referred to as the "Showplace of the Cherokee Nation".

Another major asset is the Chattahoochee National Forest, which occupies a large portion of northeastern Murray County. Within the forest is the Cohutta Wilderness Area, a roadless, mountainous landscape featuring several of Georgia's premier backpacking trails.

Carter's Lake, on the Coosawatee River, was formed by the Carter Dam, which is the largest earth-rock dam east of the Mississippi. The 3,200 acre lake attracts fishermen, boaters and campers.

Annual events include the Red and Gold Leaf Festival, Murray County Spring Festival, Appalacian Wagon Train and Village Blackberry Festival. The County also hosts the Georgia State and Red Carpet Championship Mule-Draft Horse Frolic Show which crowns a state champion each year and highlights a wagon show, parade and mule pulling.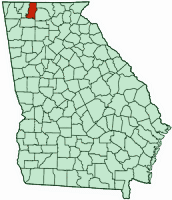 Chatsworth, incorporated August 18, 1906, is the county seat of Murray County. The city's name was said to be taken from a sign that fell off a railroad freight car, with the name "Chatsworth" printed on it. The sign was then placed on a pole and used to designate the city. However, some say the city was named after a railroad official.

Another Chatsworth attraction is Fort Mountain Park in the Cohutta Mountains. The 1,932-acre state park has a number of trails for visitors to explore, in addition to its camping sites. This park has an ancient 855-foot long rock wall, which stands on the highest point of the mountain. This area was presented to Georgia in 1934 by Ivan Allen, Sr. for a state park. It includes possibly the oldest fortifications in North America, believed to have been built in 1530 to defend against DeSoto's men.

According to 2000 Census, the City of Chatsworth had a population of 3,531 persons. Between 1990 and 2000, the city experienced a population increase of 23.2%, compared to the state growth during this period of 26.4%.
Source: georgia.gov