Welcome to the Monroe County Assessors Office Web Site!
2020 Returned Assessment Notices - Real Property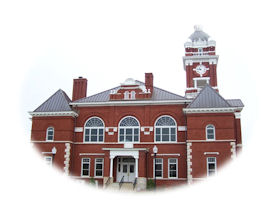 Our office is open to the public from 8:00 AM until 5:00 PM, Monday through Friday. We are located on the 2nd floor of the Annex Building at 38 West Main Street, Forsyth.
The goal of the Monroe County Assessors Office is to provide the people of Monroe County with a web site that is easy to use. You can search our site for a wealth of information on any property in Monroe County.
The information contained herein reflects the values established in the "most current published" tax digest. *Please note that the Assessors Office establishes values only. The Monroe County Tax Commissioner should be contacted with tax bill related questions.
Monroe County Tax Assessors Office

Board of Assessors

Ed Hutcheson
Chairman

Thomas F. Freeman Jr.
Vice Chairman

Dennis W. Benson
Member

Robert S. (Steve) Slocumb Jr.
Member

Robert Lee Watson
Member

Robert H. Gerhardt
Chief Appraiser

Phone: 478-994-7038
Fax: 478-993-3080

P O Box 869
Forsyth, GA 31029

PUBLIC NOTICE: You are hereby notified (and should communicate this notification to any other occupants of your property) that pursuant to O.C.GA 48-5-264.1 (a), representatives of the Monroe County Board of Tax Assessors, with proper ID, may enter upon your property during normal business hours, for the purposes of collecting accurate data or any verifications thereof due to any permits issued, return of value filing, revaluations (partial or whole), parcel sales, and appeal reviews . Please contact our office for any clarification needs you might have.
Did you know?
Monroe County was formed in 1821 from Creek Indian land. It is named for President James Monroe, the 5th President of the United States and author of the Monroe Doctrine.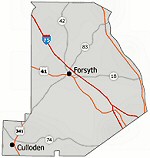 Forsyth, the county seat, is named for John Forsyth, who, as minister to Spain, negotiated the purchase of Florida in 1819. Culloden was named for a Scottish Highlander who opened a store there in 1780. Culloden is also the site of the oldest Methodist church in Georgia.
High Falls State Park, the Chattahoochee National Forest, and Lake Juliette are located in the county. High Falls used to be the site of a prosperous town that faded away after being bypassed by the railroads.
The Georgia Public Safety Training Center is located in Forsyth.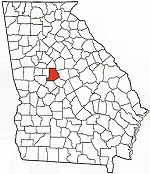 Juliette, in Monroe County, is home to the Whistle Stop Cafe, made famous by the movie Fried Green Tomatoes. It has become a tourist attraction, and is still serving fried green tomatoes.
Some of the festivals in the county are the Forsythia Festival held every spring to honor the flower, and the Culloden Highland Games and Scottish Festival.