Welcome to the Macon County Assessors Office Web Site!
Macon County Tax Assessors Office

Chief Appraiser
Deborah Walker

Contact
Phone: 478-472-6560
Fax: 478-472-9463
Contact Information


Our office is open to the public from 8:00 AM until 5:00 PM, Monday through Friday.
The goal of the Macon County Assessors Office is to provide the people of Macon County with a web site that is easy to use. You can search our site for a wealth of information on any property in Macon County.
The information contained herein reflects the values established in the "most current published" tax digest. *Please note that the Assessors Office establishes values only. The Macon County Tax Commissioner should be contacted with tax bill related questions.
*NOTE: When searching a street address, make sure you enter the street name before the house number!
Regular Board Meetings are held the first Thursday of each month at 9:30 am. All Regular meetings are open to the public.
MACON COUNTY BOARD OF ASSESSORS
NOTIFICATION
In accordance with Georgia law, the Macon County Board of Assessors must notify property owners prior to making a site visit. Notice is hereby given that a representative of the appraisal staff will review and inspect properties for the current digest year. The appraisal reviews may include measuring structures, listing construction information, and photographing the subject property.
Reasonable notice is also given that an onsite inspection may be required for real or personal property being returned or appealed. Property visits will be for the purpose of determining the correctness of the information contained in the county's appraisal record for the property.
County appraisers will be in a marked "Board of Assessors" vehicle and have county employee photo identification.
Please contact the Board of Assessors office @ (478) 472-6560 for more information concerning this notice.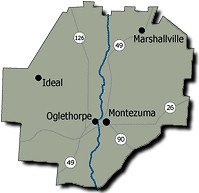 Did you know?
Macon County is named in honor of General Nathaniel Macon, a North Carolina statesman and president pro tempore of the U.S. Senate. Macon County was carved from Houston and Marion counties in 1837.

Andersonville National Cemetery and Park is in the southwest tip of Macon County. Approximately 45,000 Union soldiers were imprisoned here during the Civil War, with 13,000 perishing from hunger and disease.

The city of Montezuma was named for the Aztec leader by soldiers returning from the Mexican War.

There is a large Mennonite colony in Macon County near Montezuma.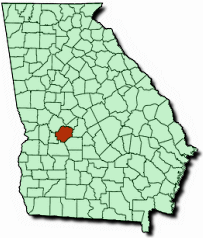 The Colonel Fish's House is said to be haunted by the ghost of Colonel George Fish after he was found murdered here in the late 1800s. This house was originally located in Oglethorpe and then moved to Americus. The ghost followed the house to its new location.

Sam Henry Rumph of Macon County developed the Elberta Peach, the variety responsible for establishing Georgia as the peach state. John Donald Wade, famous Georgia author, also hails from the county.

Some of the local annual festivals include the Camellia Festival in February, Crepe Myrtle Festival in July, Beaver Creek Festival in the Fall and the Oglethorpe Fall Festival in November.
Source: georgia.gov