Welcome to the Lincoln County Assessors Office Web Site!
Notice to Property Owners & Occupants
In accordance with Georgia Law (OCGA 48-5-264.1), property owners and occupants are notified that beginning in August of 2016, appraisers from the Assessor's office will continue a review of all properties within the county. A map of the area included in this, the third year of the 3 year process can be viewed by clicking here.
The purpose of these site visits include general review to update records, new construction/additions/remodels, review at owners request and reviews associated with property returns, sales or appeals.
The appraisers will all carry identification and will be driving marked vehicles.
You are not required to be at home for the visit and contact information may be left if there are questions about your property.
Should you have any questions regarding this review, please call the Assessor's office at 706-359-5502.
---
Lincoln County Tax Assessors Office
Kenneth Adair
Chief Appraiser
PO Box 340
182 Humphrey Street
Lincolnton, GA 30817
Phone: 706-359-5502
Fax: 706-359-5503
E-Mail

Our office is open to the public from 8:00 AM until 5:00 PM, Monday through Friday.
The goal of the Lincoln County Assessors Office is to provide the people of Lincoln County with a web site that is easy to use. You can search our site for a wealth of information on any property in Lincoln County.
The information contained herein reflects the values established in the "most current published" tax digest. *Please note that the Assessors Office establishes values only. The Lincoln County Tax Commissioner should be contacted with tax bill related questions.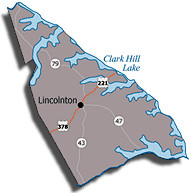 Did you know?
Lincoln County was created in 1796 and named for General Benjamin Lincoln, who accepted the British surrender at Yorktown bringing to an end the Revolutionary War.

There are numerous historic buildings in Lincoln County. It was the first county in Georgia to have a county-wide listing in the National Register of Historic Places. Over 160 historic buildings in Lincoln County are listed in the National Register.

Lincoln County is the site of the 447-acre Elijah Clark State Park which is located on the western shore of Clarks Hill Lake. The county borders 380 miles of lake shoreline. In addition to boating and fishing activities, a museum in the park offers colonial life demonstrations. Revolutionary War hero Elijah Clarke and his wife are buried in the park.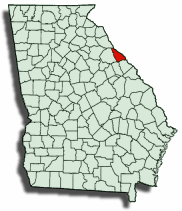 Lincoln County hosts numerous events and festivals during the year including the Lewis Family Homecoming and Bluegrass Festival, a three-day bluegrass festival in early May featuring nationally known musicians; Old Timers Day and the Town and Country Arts and Crafts Festival are both in October; and a Log Cabin Christmas at Elijah Clark State Park.
Source: georgia.gov