Click Here to download the 2023 List of Returned Notices
---
Notice to Property Owners and Occupants:
In accordance with Georgia Law (OCGA 48-5-264.1), please be advised the Jefferson County Appraisal Staff may be visiting your property. The purpose of these visits is to review and update property record information, which enables our office to more accurately determine fair market values and make other determinations as required by law.

The appraisers will have a Jefferson County photo identification badge and will be driving an appropriately marked vehicle. If there is a question of their identity, or if there are any other questions or concerns regarding this visit, please contact the Jefferson County Assessors' office at 478-625-8209.

The appraiser will be gathering necessary property information including exterior measurements of improvements, various property characteristics, exterior photos, etc. If the owner/occupant is not available at the time of the visit, a door hangar and/or business card will be left indicating the visit.

In the case of residential property visits, if an adult is home, the appraiser will want to ask some questions in an attempt to make sure our records are as accurate as possible. Answering these questions is voluntary.

A real property field review may be in response to a property tax return, appeal, manufactured home location permit, various other building permits, homestead exemption application, specialized assessment covenant application, timber harvest, solid waste exemption application, exempt status application, recently approved and recorded property plat, recently recorded transfer/sale of property, change in zoning, change in use, or involve some other routine property or neighborhood review, etc.

A personal property field review may involve aircraft, boats/motors, business assets of commercial or industrial properties, cell towers, prebilled manufactured homes, some ownership types of agricultural livestock and equipment, leased equipment, or an audit, etc.

Some property field reviews may require an interior inspection and can be handled by appointments.


The goal of the Jefferson County Assessors Office is to provide the people of Jefferson County with a web site that is easy to use. You can search our site for a wealth of information on any property in Jefferson County.
---
The information contained herein reflects the values established in the "most current published" tax digest. *Please note that the Assessors Office establishes values only. The Jefferson County Tax Commissioner should be contacted with tax bill related questions.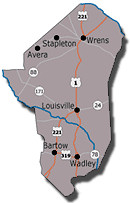 Did you know?
Jefferson County, originally part of Burke and Warren counties, was created in 1796 and named for Thomas Jefferson.

Wadley was originally known as "Shakerag". The name was changed to Wadley in the 1870s in honor of the president of the Central of Georgia Railway. The name change coincided with the designation of Wadley as an official stop on the railroad.

Louisville, the county seat, was named in honor of King Louis XVI of France, because of the support given by France to the Colonials in the Revolution. Louisville was Georgia's third state capital, but its first "permanent" one. The Jefferson County Courthouse, built in 1904, stands on the site of Georgia's first permanent capitol, constructed in 1795.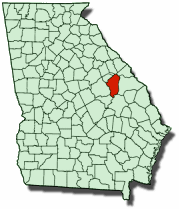 Louisville was the site of the Constitutional Convention of 1798 in which the state's pre-Civil War constitution was adopted. Georgia's Great Seal, which is still in use today, was adopted at the same time.

The Old Market House, the county's major tourist attraction, dates to the 1790s and served as the commercial center for the region during the time that the state capital was in Louisville.

Jefferson County is the site of multiple festivals including the Relay for Life in Wrens (April), the Buzzard Blast in Louisville (May), the Spier's Turnout Festival in Bartow (October), and the Pig N' Pie Fest in Wrens (October).
Source: georgia.gov