---
Notice to property owners and occupants
In accordance with O.C.G.A 48-5-264-1, please be advised that the Hancock County Appraisal staff may be visiting your property between January 1 and June 30 of each tax year. The purpose of any visit will be in response to the filing of the following documents by a property owner or agent with Hancock County Board of Assessors: Taxpayer's Return of Real Property, Homestead Exemption Application, Application for Conservation Use Assessment, Application for Forest Land Conservation Use Assessment, appeal of a Notice of Assessment, Building Permit, Mobile Home Location Permit, Real Estate Transfer Declaration, Certificate of Permanent Location, or a required review of your property. The Appraisal staff will gather necessary property information and take photographs if needed. The Appraisal staff will have proper identification and will be driving a vehicle with "Hancock County Property Appraisers" sign on each door. If no one is at home during the visit, a door hanger or business card will be left indicating the visit. If there are any questions in regard to a visit, please contact Hancock County Assessors Office at 706-444-5721.
---
Welcome to the Hancock County Assessors Office Web Site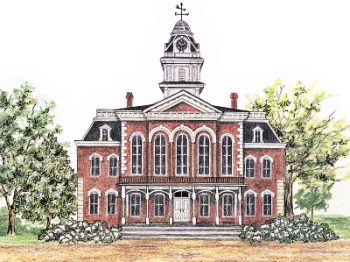 Our office is open to the public from 9:00 AM until 5:00 PM, Monday through Friday.
The goal of the Hancock County Assessors Office is to provide the people of Hancock County with a web site that is easy to use. You can search our site for a wealth of information on any property in Hancock County.
The information contained herein reflects the values established in the "most current published" tax digest. *Please note that the Assessors Office establishes values only. The Hancock County Tax Commissioner should be contacted with tax bill related questions.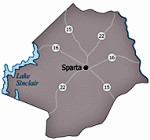 Did you know?
Hancock County was created in 1793. Originally part of Greene and Washington counties, Georgia's 15th county was named for the first signer of the Declaration of Independence, John Hancock. Millmore Gristmill, which is located within the county, was the site of the historic 1786 peace treaty between the Georgia and the Creek Indian Nation.

Founded in 1795 during Georgia's Greek Revival Period, the City of Sparta was named for the classical Greek city.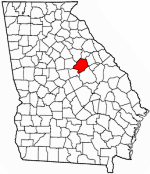 Four Georgia governors have come from Hancock County: Nathaniel Harris, James McDonald, William Northen, and William Rabun.

The Oconee River makes up much of the western border of the county. Located on its banks are the Shoulderbone Indian Mounds, which date back to approximately the fourteenth and fifteenth century.

Lake Sinclair is formed by the impoundment of the Oconee River by the Sinclair Dam.
Source: georgia.gov