Welcome to the Effingham County Assessors Office Web Site
---
To file an appeal during appeal time, to file for homestead exemption, to submit a public comment card, to submit a sales questionnaire, or to review your property information
CLICK HERE
---
Effingham County Tax Assessors Office
Neal Groover
Chief Appraiser
901 N Pine St., Suite 106
Springfield, Ga. 31329
Phone: 912-754-2125
Fax: 912-754-9506
E-Mail
Meet the Staff

The goal of the Effingham County Assessors Office is to provide the people of Effingham County with a web site that is easy to use. You can search our site for a wealth of information on any property in Effingham County.
The information contained herein reflects the values established in the "most current published" tax digest. *Please note that the Assessors Office establishes values only. The Effingham County Tax Commissioner should be contacted with tax bill related questions.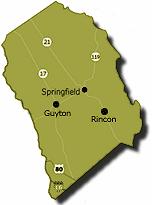 Effingham County was created in 1777 from the colonial parishes of St. Matthew and St. Philip. Georgia's 4th county was named for Lord Effingham, an English nobleman who was a colonial rights advocate and who refused to take up arms against the revolutionaries.

Effingham County is one of the oldest settlement areas in America. The Lutheran Salzburg community established in 1734 at Ebenezer (eben ezar in Hebrew is "stone of help"), was the second settlement in Georgia.

There are several buildings and sites on the National Register of Historic Places in the county. These include the Effingham County Courthouse, built in 1908, the New Hope AME Church, the Guyton-Whitesville Historic District, the Jerusalem Church, and the New Ebenezer Town site. Also, the four square block surrounding the courthouse is designated on the registry.

A length of the 314-mile long Savannah River forms Effingham County's eastern border, separating it from South Carolina.

Springfield, the county seat of Effingham County, is named for a mineral spring in the area. The city was founded in 1799 and incorporated as a town December 31, 1838.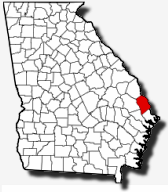 Springfield participates in the Better Hometown Program run by the Georgia Department of Community Affairs. This community development program is a public-private partnership intended to revitalize small communities with populations between 1,000 and 5,000. These cities have access to technical assistance and fiscal resources designed to stimulate downtown revitalization.

According to 2000 Census, the City of Springfield had a population of 1,821 persons. Between 1990 and 2000, the city experienced a population increase of 28.7%, compared to the state growth during this period of 26.4%.
Source: georgia.gov