Welcome to the Early County Assessors Office Web Site!
Early County Tax Assessors Office
182 Court Square
Blakely, GA 39823
Phone: 229-723-3088
Fax: 229-723-8477
ecta@earlycounty.org

Our office is open to the public from 8:00 AM until 5:00 PM, Monday through Friday.
The goal of the Early County Assessors Office is to provide the people of Early County with a web site that is easy to use. You can search our site for a wealth of information on any property in Early County.
The information contained herein reflects the values established in the "most current published" tax digest. *Please note that the Assessors Office establishes values only. The Early County Tax Commissioner should be contacted with tax bill related questions.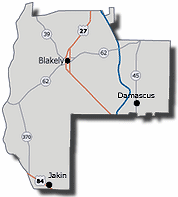 Did you know?
Early County was created from land obtained from the Creek Indians. The counties of Calhoun, Clay, Decatur, Dougherty, Grady, Miller, Mitchell, and Seminole were all created from territory originally belonging to Early County.

Georgia's 41st county was named for Peter Early, Governor of Georgia from 1813 to 1815, Superior Court Judge, and member of Congress. Blakely, the county seat, was named for Captain Johnson Blakely, a North Carolinian lost at sea during the War of 1812.

Kolomoki Mounds State Park, located in the north central part of Early County, contains a row of mounds of Native American origin dating to around the year 800. One mound believed to have been a temple base is the largest in the United States. The museum interprets seven mounds built during the 12th and 13th centuries by Swift Creek and Weeden Island Indians. The park also features a beautiful lake for canoeing and swimming, primitive and RV camping, and a nature trails for hiking and bird watching.

The southernmost covered bridge in the United States, Coheelee Creek Bridge, is located in the western part of the county. Built for $490 in 1891, the bridge stretches 96 feet across the Coheelee Creek. The bridge was placed on the National Register of Historic Places in 1976 and completely restored in 1984. The area surrounding the bridge is now operated as a historic park, offering creekside trails with native plants and picnic facilities.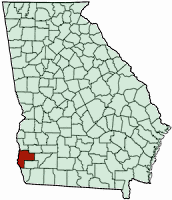 As with many counties in Southwest Georgia, peanut farming is a vital component of Early County's economy. Early County is the largest peanut quota holding county in the nation. In recognition of this crop's importance, a statue of a peanut was erected on the square in Blakely in 1954.

Erected in 1861, the only known Confederate Flag Pole is the last remaining wooden Confederate flag pole standing. Located on the northside grounds of the Early County Courthouse in downtown Blakely. This historic landmark is the only one of its kind in the Southeastern area.

The Kolomoki Festival is an annual event held the second Saturday in October at Kolomoki State Park. The festival highlights primitive and pioneer skill demonstrations, arts and crafts, food and entertainment at the local amphitheater.

Holidays on the Square is held the first Saturday in December in downtown Blakely around the Courthouse Square. Arts and crafts, a parade, an antique car show, food and entertainment are featured at this event.
Source: georgia.gov