Welcome to the Dougherty County Assessors Office Web Site!
Contact Information:
Dougherty County Tax Assessors Office
Shonna Colley Josey
Tax Director
Larry Thomas
Acting Interim Chief Appraiser
Phone: 229-431-2130
Fax: 229-446-2713
E-Mail

Located at:
240 Pine Ave Suite 100
Albany, GA 31702
Mailing Address:
P.O. Box 1827
Albany, Georgia 31702

Our office is open to the public from 8:30 AM until 5:00 PM, Monday through Friday.
The goal of the Dougherty County Assessors Office is to provide the people of Dougherty County with a web site that is easy to use. You can search our site for a wealth of information on any property in Dougherty County.
The information contained herein reflects the values established in the "most current published" tax digest. *Please note that the Assessors Office establishes values only. The Dougherty County Tax Commissioner should be contacted with tax bill related questions.
DOUGHERTY COUNTY BOARD OF ASSESSORS NOTIFICATION

In accordance with Georgia law, the Dougherty County Board of Assessors must notify property owners prior to making a site visit. Notice is hereby given that a representative of the appraisal staff will review and inspect properties for the current digest year. The appraisal review may include measuring structures, listing construction information, and photographing the subject property.

Notice is also given that an onsite inspection may be required for real or personal property for which a return has been filed. Said property visit will be for the purpose of determining the correctness of the information contained in the county's appraisal record for the property.

If you would like more information concerning the review, feel free to contact the Board of Tax Assessor's office at (229) 431-2130 or by email at abridges@dougherty.ga.us.
Click to see: Area Diagram | Building Diagram
Did you know?
In 1853, Dougherty County was created out of Baker County by the Georgia Legislature. It was named for Judge Charles Dougherty of Athens. Portions of Worth County were transferred to Dougherty County in 1854 and 1856. Many of the original buildings remain and some have been restored and are in use today.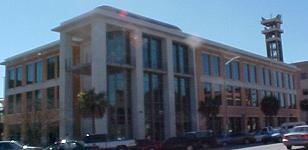 Quail plantations are famous in the area and date back to the founding of Albany. Dougherty County is recognized for its quail and duck hunting, fishing, the Flint River and many cypress swamps.

Dougherty County has come to the forefront with many of its endeavors such as new mental and physical health facilities; up-to-date landfill operations; a state of the art jail facility, a five story Government Center for County administrative departments, a three story Central Square Office Building, two parking decks and a Riverfront Resource Center.

City of Albany
Albany, pronounced "All-ben-ny" or "Al-bain-ny", is the county seat of Dougherty County and obtained its charter December 27, 1838. The Creek Indians first inhabited the Albany area and referred to their home along the Flint River as "Thronateeska" meaning "the place where the flint is picked up" -- hence the name "Flint River." The city was founded by Nelson Tift in 1836 and was established as a place for trade along the Flint River. However, steamboat navigation proved to be irregular and Albany became a rail center by the turn of the nineteenth century.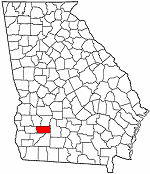 Albany is also known as the Quail Hunting Capital of the World due to the abundance of bobwhite quails during quail season (October to March).

Radium Springs, located in Albany, are the state's largest natural springs. These springs have a flow of crystal clear water with a year round temperature of 68 degrees.

Rhythm and blues musician Ray Charles was born and raised in Albany until the age of six. Charles' rendition of "Georgia on My Mind" is the state song. Other notable Albany natives include naturalist Jim Fowler and former major league baseball player Ray Knight. Ladies Professional Golf Association (LPGA) great, Nancy Lopez, also makes her home in Albany.

W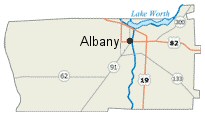 hile the "Good Life City" is the region's economic, healthcare, military and recreational hub, Albany has also overcome great obstacles. The Flood of '94 was so devastating it drew the world's attention, but the city government responded with a national award-winning recovery program. Indeed, our bread-and-butter is our local government, which is a Georgia Municipal Association-designated "City of Excellence" and "City of Ethics."

Albany has several sites listed on the National Register of Historic Places. Among them are St. Teresa's Catholic Church built in 1859 (the oldest Catholic Church in continuous use in Georgia) and Heritage Plaza, a collection of historic buildings and educational facilities.

Other attractions in Albany include: the Albany Museum of Art, the Albany Civil Rights Movement Memorial, Chehaw Wild Animal Park, Radium Springs and Tift Park. The city is also home to the Albany Warriors, a minor league football team.

Albany is the home to several state operated institutions, including Albany State University, Albany Technical Institute, and Darton College.