Welcome to the Dooly County Assessors Office Web Site!
Contact Information:
Dooly County Tax Assessors Office
105 West Cotton St.
Room 2
Vienna, GA 31092

Phone: 229-268-4719
Fax: 229-268-6849
E-Mail

Our office is open to the public from 8:00 AM until 5:00 PM, Monday through Friday.
The goal of the Dooly County Assessors Office is to provide the people of Dooly County with a web site that is easy to use. You can search our site for a wealth of information on any property in Dooly County.
The information contained herein reflects the values established in the "most current published" tax digest. *Please note that the Assessors Office establishes values only. The Dooly County Tax Commissioner should be contacted with tax bill related questions.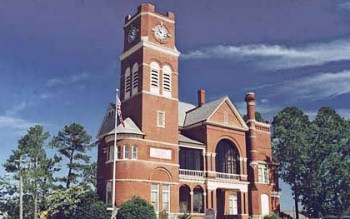 Dooly County, the 48th county formed in Georgia, was created in 1821. It was one of the original landlot counties and was later divided to make Crisp and parts of Macon, Pulaski, Turner, Wilcox, and Worth counties.

The county was named for Colonel John Dooly, a revolutionary war hero who helped prosecute Tories in 1779 and was murdered by them the following year. Vienna (pronounced vye'-enna locally), the county seat, was named after the capital of Austria.

Historic sites in the county include the Dooly County Courthouse. Built in 1891 of granite, slate, and brick, the structure is listed on the National Register of Historic Places. The Dooly Campground, which was built in 1875, is an open-air tabernacle constructed with hand-hewn timbers that still hosts many community activities.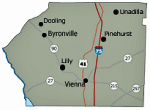 Vienna is home to the Georgia State Cotton Museum and Dooly County Welcome Center.

Hunting is popular in Dooly County, with sportsmen bagging deer, dove, quail, duck, rabbit, squirrel, and turkey. The county participates in a pilot deer hunting program designed to increase the number of large bucks in the area.

Dooly County claims several notable Georgians past and present. Walter F. George was a member of the U.S. Senate from 1922-1957, served as President Pro Tem of the Senate and chaired the Finance and Foreign Relations Committees. A museum honoring George, located in his old law office, operates in Vienna . George Busbee, governor from 1975-1983, was born and raised in Dooly County. Roger Kingdom, gold medallist in the high hurdles at the 1984 and 1988 Olympics, was born in Dooly County. Jody Powell, press secretary to President Jimmy Carter, also hails from the county.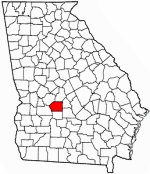 Dooly County is home to an annual event that celebrates the area's fine cuisine. Held during October, the county's Big Pig Jig is Georgia's Official Barbecue Cooking Championship. The festival attracts over 30,000 spectators and sends the Grand Champion to compete in the "Memphis in May International Barbecue Cook-off."
Source: georgia.gov