Welcome to the Decatur County Assessors Office Web Site!
---
2021 Assessment Notices
Notice Date: 5/17/2021 Appeal Deadline: 7/1/2021
Decatur County, along with many other counties in Georgia is experiencing what can only be described as an "inflated" real estate market. The combination of historically low interest rates, with historically high construction costs, are driving home sales to an all-time high. Unfortunately, if there are enough sales within the county that are a certain percentage higher than the Assessors values, the Georgia State Department of Audits mandates an increase in property values. This is what has happened in Decatur County. Current 2020 sales have indicated that Decatur County was well below the accepted sales ratio range for the Audit Department.
With the anticipated increase in Residential property values, a representative from Norman Appraisal Services will be available to discuss individual properties with taxpayers and will make contact sometime within the 45-day deadline while Appeals are being processed.
A sales package will be provided to taxpayers upon request, containing sales through-out Decatur County of like properties. The package will be provided to show how low Decatur County Residential property values were last year compared to current year sales. The amount of increase to each property, while significant, should not be basis for appeals, but the value of your home, compared to sales within Decatur County.
The increases to property values in Decatur County are based solely on current market adjustments and have nothing to do with taxes or a need to increase revenue.
---
Decatur County Tax Assessors Office
Amy Rathel
Chief Appraiser
P O BOX 1106
Bainbridge, GA 39818
Phone: 229-248-3008
Fax: 229-248-3053
amy@decaturcountyga.gov



Our office is open to the public from 8:00 AM until 5:00 PM, Monday through Friday.
The goal of the Decatur County Assessors Office is to provide the people of Decatur County with a web site that is easy to use. You can search our site for a wealth of information on any property in Decatur County.
The information contained herein reflects the values established in the "most current published" tax digest. *Please note that the Assessors Office establishes values only. The Decatur County Tax Commissioner should be contacted with tax bill related questions.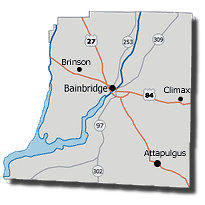 Did you know?
Decatur County was created in 1823 from portions of Early County. The county was named in honor of Commodore Stephen Decatur who defeated the Barbary Coast pirates at Tripoli in 1815. Bainbridge, the county seat, was named for Commodore William Bainbridge, commander of the U.S. Constitution, "Old Ironsides."

The Decatur County area was the site of several battles between Indians and early settlers. In the early 1700s, both the Spanish and English fought with Creek Indians. In 1818, General Andrew Jackson led troops from Tennessee, Kentucky, and Georgia to victory over the Seminole Indians.

Decatur County is divided by the Flint River, which flows to meet the Chattahoochee. Together they form the Apalachicola River which flows to the Gulf of Mexico. At the junction of the two rivers, the Jim Woodruff Dam forms Lake Seminole. A system of locks at the dam allows barge traffic to travel between the inland port at Bainbridge and the Gulf of Mexico.

The limestone aquifer underlying Decatur County is broken in many places, encouraging the formation of caves and lime sinks — one at Curry's Mill is almost 700 feet wide and reaches a depth of 102 feet.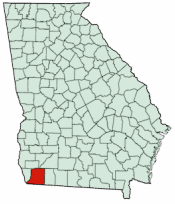 Decatur County is the nation's leader in the production of Fuller's Earth, a type of clay with varied chemical uses. Once used for bleaching petroleum and cleaning grease out of wool, Fuller's Earth is currently used as cat litter and as an additive to insecticides and cements.

Lake Seminole is widely regarded as one of the nation's best lakes for large mouth bass fishing. In addition, local anglers fish for striped and white bass, catfish, crappy, and bream. Also, Lake Seminole is popular among area duck hunters.

Decatur County is the home to several annual festivals. During the first week in May, the River Town Days celebrates a specific state's culture, history, food, and music and the Decatur County Fall Festival and Fair in October in Bainbridge.
Source: georgia.gov