Welcome to the Clay County Assessors Office Web Site!
Clay County Tax Assessors Office
Phone: 229-768-2000
Fax: 229-768-2710
E-Mail

---
NOTIFICATION
In accordance with Georgia law, the Clay County Board of Assessors must notify property owners prior to making a site visit. Notice is hereby given that a representative of the appraisal staff will review and inspect properties for the current digest year. The appraisal reviews may include measuring structures, listing construction information, and photographing the subject property.

Reasonable notice is also given that an onsite inspection may be required for real or personal property being returned or appealed. Property visits will be for the purpose of determining the correctness of the information contained in the county's appraisal record for the property.

County appraisers will be in a marked "Board of Assessors" vehicle and have photo identification.

Please contact the Board of Assessors office @ (229) 768 2000 for more information concerning this notice.
---
Our office is open to the public from 8:00 AM until 4:30 PM, Monday through Friday.
The goal of the Clay County Assessors Office is to provide the people of Clay County with a web site that is easy to use. You can search our site for a wealth of information on any property in Clay County.
The information contained herein reflects the values established in the "most current published" tax digest. *Please note that the Assessors Office establishes values only. The Clay County Tax Commissioner should be contacted with tax bill related questions.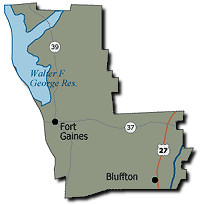 Did you know?
Clay County was created from parts of Early and Randolph counties in 1854. It was named for Senator Henry Clay of Kentucky.

Fort Gaines grew up around a fort on the Chattahoochee River established to protect settlers during the Creek Indian Wars. The town, named for the fort's builder, General Edmund Pendleton Gaines, became a shipping point for cotton planters for many miles on both sides of the Chattahoochee River, remaining a key market until about 1858 when railroads replaced river freight.

Cemocheechobee Creek is the site of a pre-historic community, consisting of a large village area surrounding three adjacent platform mounds.

The Walter F. George Lock and Dam in George T. Bagby State Park is just north of Fort Gaines on the Chattahoochee River. Under construction from 1955 until 1963, the dam stretches two and a half miles from Alabama. The lock, second highest east of the Mississippi, forms a lake called Lake Walter F. George . The lake extends 85 miles upriver.

The Fort Gaines Historic District and Frontier Village are tourist attractions. There are several reconstructed fort buildings on the site of the original Fort Gaines, and two Civil War gun emplacements. There are also the remains of an 1890s cottonseed oil mill and an early 20th century waterworks. All of these sites are on the National Register.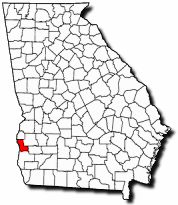 Elizabeth Stuart Dill who was captured and held hostage by Indians after the War of 1812, is one of the county's interesting historical figure. Forced to accompany the Indians on their raids, she was able to gather a lot of paper money that the Indians had deemed useless and save it by pinning it to her petticoats. When rescued, she returned with her loot to Fort Gaines and built the Dill House, which is now a Bed and Breakfast.

Other recreational facilities include the Meadowlinks 18-Hole Championship Golf Course.

Festivals in Clay County include: Bass Fishing Tournament in May and Christmas at the Fort in November.
Source: georgia.gov