TAX ASSESSMENT NOTICES
All Butts County property owners will be receiving Tax Assessment Notices during April. These notices indicate the value placed on your property by the Board of Tax Assessors and are intended to reflect the current property values as determined by recent sales.

In addition to the property value, the Assessment Notice will include an estimated tax bill. This estimate is based on last year's millage rates. This is NOT a tax bill, nor is it an accurate indicator of your tax bill. Neither the county nor the school board has adopted their budgets or set their millage rates - this typically takes place in May or June. This estimated tax is NOT something you need to pay at this time.

These notices are mailed out for three reasons: 1) the Georgia Department of Revenue requires that all property be assessed at 40% of the market value, 2) state law requires assessment notices be mailed to all property owners every year, and 3) (most importantly) this provides the property owner an opportunity to address any errors in the property assessment records.

If you believe your assessment is not correct (incorrect value or information), you are encouraged to appeal this to the Board of Tax Assessors, 625 W. 3rd St., Suite 1, Jackson, GA 30233. Detailed information concerning how to file an appeal is available at: "How do I appeal my property tax assessment?"

All appeals must be received in the Butts County Board of Tax Assessors office by the deadline indicated on the Tax Assessment Notice. If you have any questions concerning the information included on your assessment notice, please call the Butts County Tax Assessors office (770-775-8207).
---
---
Welcome to the Butts County Assessors Office Web Site!
Butts County Tax Assessors Office
Lindsay Menezes
Chief Appraiser
lmenezes@buttscounty.org

625 W. 3rd St., Suite 1
Jackson, GA 30233
Phone: 770-775-8207
Fax: 770-775-8249

Our office is open to the public from
8:00 AM until 4:30 PM, Monday through Friday.
The goal of the Butts County Assessors Office is to provide the people of Butts County with a web site that is easy to use. You can search our site for a wealth of information on any property in Butts County.
The information contained herein reflects the values established in the "most current published" tax digest. *Please note that the Assessors Office establishes values only. The Butts County Tax Commissioner should be contacted with tax bill related questions.
---
---
PUBLIC NOTICE
SENATE BILL 215 NON-DISCLOSURE FOR LAW ENFORCEMENT OFFICERS
To amend Article 4 of Chapter 18 of Title 50 of the Official Code of Georgia Annotated, relating to inspection of public records, so as to require local governments to remove upon request certain personally identifiable information of law enforcement officers from certain property records; to provide for definitions; to require local governments to provide a Non-Disclosure Form (click here) for such requests; to provide for injunctive relief; to provide for related matters; to repeal conflicting laws; and for other purposes.
You are hereby notified (and should communicate this notification to any other occupants of your property) that pursuant to O.C.GA 48-5-264.1 (a), representatives of the Butts County Board of Tax Assessors, with proper ID, may enter upon your property during normal business hours, for the purposes of collecting accurate data or any verifications thereof due to any permits issued, return of value filing, revaluations, parcel sales, and appeal reviews. If you have any questions please contact our office at 770-775-8207.
The following areas will be reviewed in the upcoming months:

Keys Ferry Road/Highway 36 and all surrounding roads
Spalding/Henry County Line area
Monroe County Line area
McDonough Road area
---
---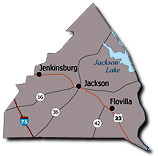 Did you know?
The 64th county formed in Georgia, was created from Henry and Monroe counties. It was named for Captain Samuel Butts, a militiaman killed fighting Creek Indians in the War of 1812.

Historic sites abound in Butts County, like Indian Springs Hotel (1823), the Indian Springs Church (1855), the Butts County Courthouse (1898), the Old Flovilla School (1885-1932), and historic private homes.

Lake Jackson, one of the earliest reservoirs in Georgia, was formed in 1910 when the Central Georgia Power Company completed a dam and hydroelectric plant at Lloyd Shoals on the Ocmulgee River.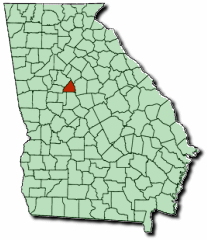 Indian Springs is the oldest state park in the United States. The Creek Indians used the springs for centuries to heal their sick and to keep the healthy well. It was also the site of the treaty that ceded the Creek Indian lands to the state of Georgia in 1825.

Robert Grier was one of Butts County's notable citizens. He was the publisher of Grier's Almanac which has been published annually since 1807. Current sales average 2.5 million copies a year.

Festivals in Butts County include the Scottish Festival, the Native American Festival, and a Civil War re-enactment each November.

The City of Jackson, the county seat of Butts County, was incorporated on December 26, 1826. The city was named in honor of President Andrew Jackson.

The Butts County courthouse, built in 1898, has Victorian-style stairs, marble floors and the courtroom still intact. The building is listed on the National Register of Historic Places.

Jackson hosts several festivals annually including the Scottish Festival (April), the Native American Festival (September) and Civil War Days (November). According to 2000 Census, the City of Jackson had a population of 3,934 persons. Between 1990 and 2000, the city experienced a population decrease of -3.5%, compared to the state growth during this period of 26.4%.
Source: georgia.gov