Welcome to the Brooks County Board of Tax Assessors office Web Site!
Brooks County Board of Tax Assessors Office
Wayne Waldron
Chief Appraiser
610 S Highland Rd
Quitman, GA 31643
Phone: 229-263-7920
Fax: 229-263-5125
assessors@brookscountytax.com

Our office is open to the public from 8:00 AM until 5:00 PM, Monday through Friday.
The goal of the Brooks County Board of Tax Assessors office is to provide the people of Brooks County with a web site that is easy to use. You can search our site for a wealth of information on any property in Brooks County.
The information contained herein reflects the values established in the "most current published" tax digest. *Please note that the Assessors Office establishes values only. The Brooks County Tax Commissioner should be contacted with tax bill related questions.
Notice to Taxpayer
In compliance with Georgia Law 48-5-264.1 requiring reasonable notice in advance of the appraisal staff visiting property while conducting official business, this notice serves to inform the property owner that obtaining a building permit and/or the filing of an appeal will require the appraisal staff to visit the property to verify property information. Prior to the property review by the Board of Assessors, members of the county appraisal staff will conduct an on-site review of the property.
All members of the appraisal staff visiting your property will display Brooks County identification with a photo, and will drive marked county vehicles.
Thank you for your understanding and cooperation.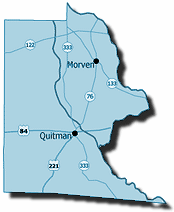 Did you know?
The first settlers, in what is now Brooks County, were Spanish missionaries from Florida who arrived around 1570. Brooks County was formed from parts of Lowndes and Thomas counties and was named for Preston Brooks, a member of Congress prior to the Civil War and an avid defender of state rights.

During the Civil War, the county was the main producer of food for the confederacy and became known as the "Breadbasket of the South."

The county's courthouse was constructed in 1864. Brooks County officials paid for the structure with $14,958 in Confederate money, a fortunate circumstance for the county, since this currency was soon to become useless. The courthouse is listed on the National Register of Historic Places.

The county is home to several endangered plant and animal species including the Pond Spicebush, the Wood Stork, and the Eastern Indigo snake.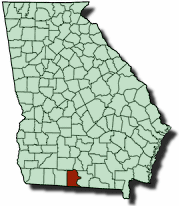 Quitman, incorporated December 19, 1859, is the county seat of Brooks County. The city was named in honor of General John A. Quitman, who served under Zachary Taylor as a soldier and later enjoyed a successful career in politics.

The Quitman Historic District is listed on the National Register of Historic Places. The district contains late 19th and early 20th century brick buildings in the commercial district and mainly wood frame homes from various periods and styles in the residential area.

Source: georgia.gov