Welcome to the Ben Hill County Assessors Office Web Site!
Ben Hill County Tax Assessors Office
Joyce Merritt
Chief Appraiser
Phone: 229-426-5147
Fax: 229-426-5103
bhassessor@mchsi.com

Our office is open to the public from 8:00 AM until 5:00 PM, Monday through Friday.
The goal of the Ben Hill County Assessors Office is to provide the people of Ben Hill County with a web site that is easy to use. You can search our site for a wealth of information on any property in Ben Hill County.
The information contained herein reflects the values established in the "most current published" tax digest. *Please note that the Assessors Office establishes values only. The Ben Hill County Tax Commissioner should be contacted with tax bill related questions.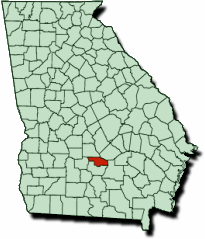 Did you know?
Ben Hill County was created in 1906, from Irwin and Wilcox counties, and was named for Benjamin Harvey Hill, U.S. Senator from Georgia, a Whig leader, and a staunch opponent of Reconstruction.

The Historic District on South Lee and South Main streets in Fitzgerald is listed on the National Register. The old railroad depot is now home to the Blue/Gray Museum.

The county has only one incorporated city, Fitzgerald, which was founded by former Union soldiers on a 50,000 acre tract owned by the non-profit American Tribune Soldiers Colony Company. The citizens of Fitzgerald, pledging unity with their former enemies, named streets after leaders of both armies. The early concentration of population in the city aided the county's industrial development. The colony also founded the first public school in Georgia to offer free books and tuition.

Fitzgerald and Ben Hill County maintain nine recreational parks and one river access park at the Ocmulgee River. These facilities offer playgrounds, team sports, natural areas, meeting and concert shelters, and public boat ramps.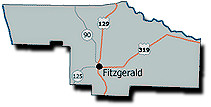 Events include the Blues and Grays Festival in October, the Ebony-in-Arts Festival in the Spring, Colony City Chase in October and the Fourth of July Celebration.

Fitzgerald, the county seat of Ben Hill County, was incorporated on December 2, 1896. The courthouse in Ben Hill County was constructed in 1909 and is listed under the National Register of Historic Places.

East Central Technical Institute, a member of Georgia Department of Technical and Adult Education, is located in the City of Fitzgerald.

According to 2000 Census, the City of Fitzgerald had a population of 8,758 persons. Between 1990 and 2000, the city experienced a population decrease of -1.6%, compared to the state growth during this period of 26.4%.
Source: georgia.gov