Jefferson County Tax Assessors Office
Katherine Perry
Chief Appraiser
P O Box 555
Louisville, GA 30434
Phone: 478-625-8209
Fax: 478-625-4008
E-Mail

Our office is open to the public from 8:00 AM until 5:00 PM, Monday through Friday.
The goal of the Jefferson County Assessors Office is to provide the people of Jefferson County with a web site that is easy to use. You can search our site for a wealth of information on any property in Jefferson County.
The information contained herein reflects the values established in the "most current published" tax digest. *Please note that the Assessors Office establishes values only. The Jefferson County Tax Commissioner should be contacted with tax bill related questions.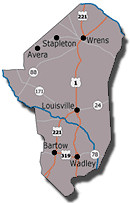 Did you know?
Jefferson County, originally part of Burke and Warren counties, was created in 1796 and named for Thomas Jefferson.

Wadley was originally known as "Shakerag". The name was changed to Wadley in the 1870s in honor of the president of the Central of Georgia Railway. The name change coincided with the designation of Wadley as an official stop on the railroad.

Louisville, the county seat, was named in honor of King Louis XVI of France, because of the support given by France to the Colonials in the Revolution. Louisville was Georgia's third state capital, but its first "permanent" one. The Jefferson County Courthouse, built in 1904, stands on the site of Georgia's first permanent capitol, constructed in 1795.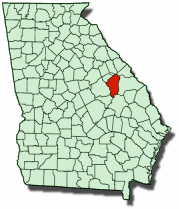 Louisville was the site of the Constitutional Convention of 1798 in which the state's pre-Civil War constitution was adopted. Georgia's Great Seal, which is still in use today, was adopted at the same time.

The Old Market House, the county's major tourist attraction, dates to the 1790s and served as the commercial center for the region during the time that the state capital was in Louisville.

Jefferson County is the site of multiple festivals including the Hometown Fest in Wadley (August), Pig Pickin' Festival in Wrens (June), and Spier's Turnout Festival in Bartow (May).
Source: georgia.gov