***Notice to the Public***
Hart County's Property Appraisal Department's field appraisers will be reviewing the lake properties through January 1, 2018. The vehicles will be marked with Hart County logos and the appraisers will be wearing county issued badges. Thanks for your cooperation in this manner.
Welcome to the Hart County Assessors Office Web Site!
Hart County Tax Assessors Office
J. Wayne Patrick
Chief Appraiser
P O Box 810
Hartwell, GA 30643
Phone: 706-376-3997
Fax: 706-376-0097
property@hartcountyga.gov

The Hart County Appraisal Department will be physically reviewing the city limits of Hartwell and Royston along with all commercial and industry property for the upcoming 2017 digest this year. Should you have any questions concerning this year's review of real property please contact our department at 706-376-3997.
Our office is open to the public from 8:30 AM until 5:00 PM, Monday through Friday.
The goal of the Hart County Assessors Office is to provide the people of Hart County with a web site that is easy to use. You can search our site for a wealth of information on any property in Hart County.
The information contained herein reflects the values established in the "most current published" tax digest. *Please note that the Assessors Office establishes values only. The Hart County Tax Commissioner should be contacted with tax bill related questions.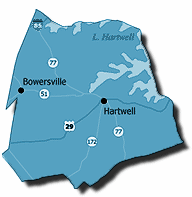 Did you know?
Hart County was created in 1853 from parts of Elbert, Franklin and Madison counties, and is the only Georgia county named for a woman. Nancy Hart, who lived in the area during the Revolutionary War, served as a rebel spy and killed five Tories who threatened her home. Hartwell, the county seat, is also named for her. The only other municipality is Bowersville.

The Teasley-Holland House in Hartwell is a historic museum in a one-story Victorian style home that was built in 1880 by Isham Asbury Teasley.

Hartwell Lake, which forms parts of the county's eastern and southern borders, is a major tourist attraction in the region. The lake covers 55,950 acres, and is one of the three most visited Corps of Engineer lakes in the country.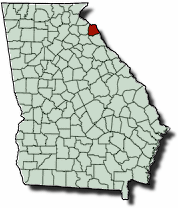 Other important attractions in Hart County include Hart State Park, Victoria Bryant State Park, Lake Hartwell Dam and Power Plant and Bluegrass Express.

The Cherokee Indian "Center of the World" is located in the county on Highway 29 South. This Cherokee Indian Assembly ground, marked by a roadside monument, was the site of council meetings and trade with white settlers.

The 118-year old Hartwell Sun provides the community with news coverage of local government, social and recreation stories.

Annual events in Hart County include the Arts in Hartwell Festival in April, the Blessing of the Fleet on Lake Hartwell in May, a pre-Labor Day gospel sing, Lake Hartwell Antique Boat Show and Lake Hartwell Dam Run.
Source: georgia.gov