Welcome to the Bacon County Assessors Office Web Site!
Bacon County Tax Assessors
Glenn Rainey
,
Chairman
Lane Wade
,
Member
Phil Tyre
,
Member
Douglas J. Miles
,
Chief Appraiser
Harlie Hall
,
BOA Secretary
Heath Carver
,
Appraiser II
Contact Information
E-Mail
Ph:(912)632-5215
Fax:(912)632-7251
PO Box 461
502 W. 12th Street, Room 203
Alma, GA 31510
Our office is open to the public from 9:00 AM until 5:00 PM, Monday through Friday.
The goal of the Bacon County Assessors Office is to provide the people of Bacon County with a web site that is easy to use. You can search our site for a wealth of information on any property in Bacon County.
The information contained herein reflects the values established in the "most current published" tax digest. *Please note that the Assessors Office establishes values only. The Bacon County Tax Commissioner should be contacted with tax bill related questions.
Did you know?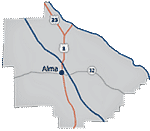 Georgia's 149th county was named for Senator Augustus O. Bacon, a four-term U.S. Senator who died in office.

Alma's name is an acronym composed from the first letters in the names of Georgia's four state capitals: Augusta, Louisville, Milledgeville, and Atlanta. Alma is the only incorporated municipality in Bacon County.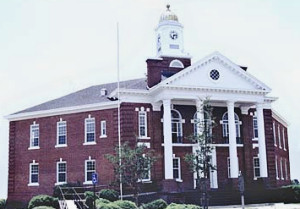 There are three buildings on the National Register of Historic Places in Bacon County: the Bacon County Courthouse, the Alma Depot, and the Rabinowitz Building.

Alma and Bacon County share a 110-acre recreational area for team sports, swimming and picnicking. Additionally, four city-owned parks and six privately owned facilities provide many recreational opportunities.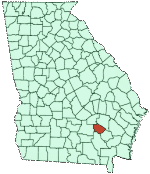 There are two wildlife management areas in the county, the Bacon Area and the Whitehead Creek Area, both which allow hunting.
Source: georgia.gov